Planning a trip to George Town of Penang, Malaysia? You may wonder how to stay connected throughout your trip? Consider buying a Malaysia SIM card or eSIM and you will be all set to go.
George Town of Penang is the 2nd-largest city in Malaysia, famous for its beautiful mosques and temples, skyscrapers, narrow streets, and delicious cuisine.
To stay online in Penang during your trip, you can consider using Malaysia SIM cards or eSIM for tourists, apart from traditional methods like using Wifi Pocket.
This article will show you all about George Town of Penang SIM card and eSIM, including which type to choose, where to buy, what to look for in a plan, and tips to stay online during your trip.
You also know exactly what to do to get the perfect Malaysia prepaid SIM card for tourists.
Now, let's get started!
Table of Contents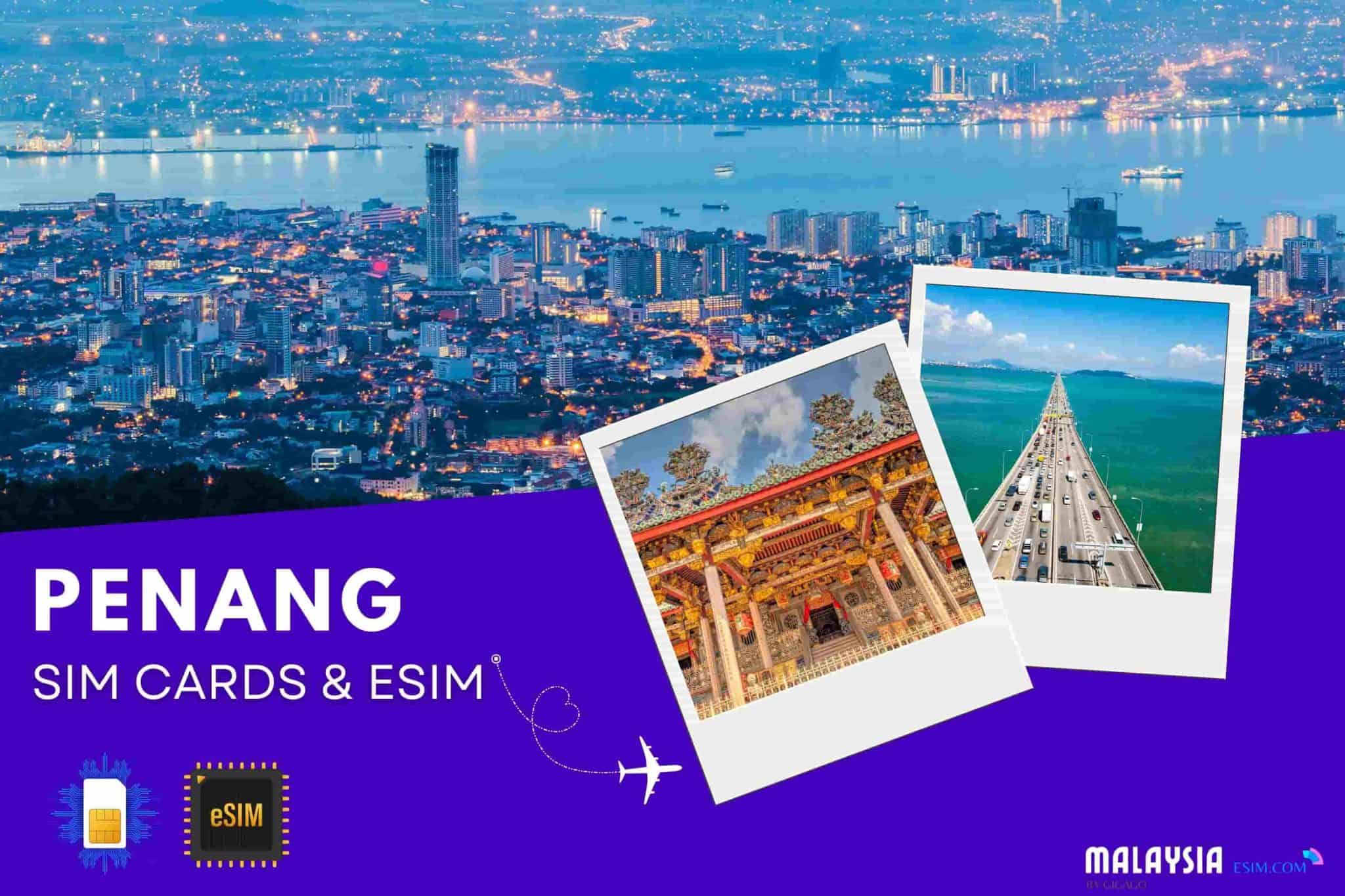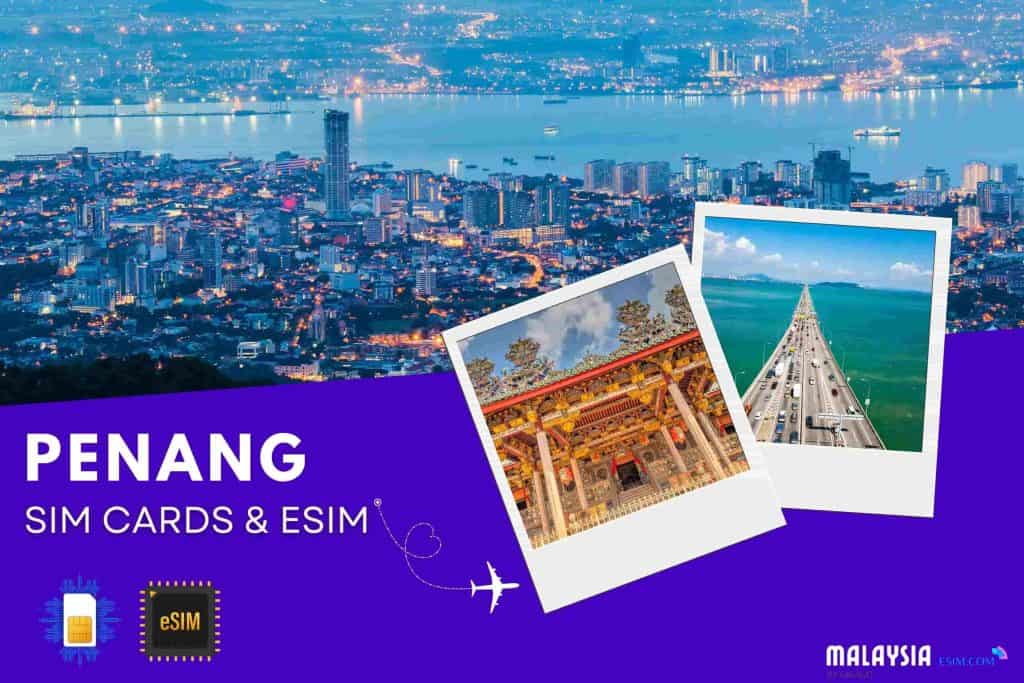 A quick start about Malaysia cards in Penang:
Top 4 best mobile network operators in Penang, Malaysia: Celcom, Digi, Maxis, U Mobile.
Recommended travel SIM: data only
Best Malaysia SIM cards for travelers: prepaid SIM card or eSIM with a data plan.
Newest Malaysia travel SIM form: eSIM
In terms of forms, there are 2 types of Penang SIM types, which are:
Physical traditional SIM card, and
eSIM profile (virtual SIM)
I. Overall about physical Penang SIM cards for tourists
1. Types of physical Malaysia SIM cards for Penang
In terms of types, physical SIM cards for Malaysia in Penang are divided into several types.
The most common types are:
Prepaid local SIM Cards: this type is popular among tourists to Malaysia, including George Town of Penang thanks to its affordability and flexibility. You can find it at the airports, convenience stores, mobile stores. When it is needed, you can top it up easily.
Postpaid SIM cards: this type is ideal for people staying in Penang, Malaysia for a longer period of time since it requires a commitment from buyers through a monthly bill. The rate of data usage and voice calls of postpaid SIM cards are often better than prepaid ones.
Data-only SIM cards: popular among both locals and foreigners who do not need to make voice calls or text messages but need Internet access.
Tourist SIM Cards: this type is for short-term tourists to Penang/Malaysia. It has features like unlimited data, free calls and SMS, and specific discounts on services.
Multi-country SIM cards: tourists who are going to visit many countries during their trip, including Malaysia should choose this type of Malaysia SIM. It has roaming services and allows users to stay connected throughout their trip in specific countries.
Pro tip: To choose the most suitable type of Malaysia travel SIM for your trip, consider your specific needs and travel preferences – do you plan on making voice calls and sending téts, or do you just want to use data/internet?
2. Procedure to buy a SIM Card for Penang as a tourist
You are required to present your passport / ID card to buy a SIM card for Penang because Malaysian law requires SIM card purchases to be registered to an individual.
Always bring your passport with you because the seller may take a copy of it or take its photo for their administration.
You can buy 1 prepaid SIM per passport.
3. How much does a Penang SIM card cost?
The cost of a Penang SIM card in Malaysia will depend on the mobile network provider and the plan type you choose. In general, a basic prepaid SIM card in Malaysia costs about RM10-20 (about $2.5 – $5) and may come with a small amount of credit.
4. Which SIM card is the best in Penang?
There are 4 major mobile network operators in Malaysia, each having its own pros and cons. They are Maxis, Digi, Celcom, and U Mobile. The best SIM card in Malaysia will depend on your specific needs and how you plan to use your phone. To decide which is the best Penang SIM card, you need to find the one offering the right combination of network coverage, price, data speed, and features that best suit your needs and do not forget to ask local people or other tourists for their recommendations.
Pro tip: If you travel to Penang, you can choose Celcom because its coverage and speed is good in general. Moreover, it saves you money.
II. Penang travel data eSIM for tourists (virtual/digital SIM)
1. What is a Penang eSIM? Major features
eSIM is an embedded SIM which is a programmable chip built into the motherboard of your smartphone, smartwatch or tablet. It serves the same role as a physical SIM card, but it can be programmed via software and is carrier-independent.
To use an eSIM, you need to have an eSIM-compatible device, switching providers is easier than acquiring and setting up a physical SIM card. What you need to do is to get an eSIM QR code and activate it on your device. Providers refer to this as an eSIM profile and you can scan the QR code to download it.

Some network providers in Malaysia offer eSIM services for tourists, allowing them to make voice calls, text SMS and get access to the Internet during their trip.
Major features of Malaysia eSIM for Penang:
Malaysia eSIMs do not have a local phone number. No analog phone calls or texts can be executed.
eSIM plans will automatically connected to the respective mobile network when you arrive in Penang
eSIM can be installed once. Don't remove it because you cannot set it up again after removal.
Multiple eSIM plans can be added to one phone, but only one is activated at a certain time.
Not all providers allow you to top-up eSIM plans. If not, you need to buy a new data plan when data is used up.
2. Types of Malaysia eSIM for Penang
Two common types of eSIM for tourists are:
data eSIM, and
voice + text + data eSIM.
Most travelers make use of a data-only eSIM plan because it is cost-effective and still helps them stay connected with their friends and family.
Note: Your smartphone needs to be equipped with eSIM function and unlocked in order to use eSIM during their trip to another country..
III. Where to buy Malaysia SIM for Penang as a tourist?
Getting a SIM card for your trip to Penang is simple and there are 03 ways to do it:
1. Buy a SIM card online
You can purchase a Malaysia SIM card for Penang travel from websites like Maxis, U Mobile, Celcom, and Digi. They can deliver it to your hotel or a pickup location in Penang.
Alternatively, you can also buy an Malaysia eSIM for tourists online. This option is flexible and available from providers like Gigago, Malaysiaesim.com, Airralo, Holafly, and Digital Nomad. 
To buy an eSIM for Penang travel, follow these steps:
Visit the provider's website
Choose a data plan and pay
Receive eSIM information and installation guide in your email
Set up the eSIM before your trip
Activate it in Penang and enjoy internet connection
Each eSIM provider has its own advantages and disadvantages, which will be discussed in the next part.
2. Buy at the airport
If you forget to purchase a travel SIM or eSIM before leaving home, you can buy one at the Penang airport. As you approach the immigration hall, you will come across four different telco counters: Digi, Tune Talk (Celcom), U-Mobile, and Hotlink (Maxis). In case you miss these counters or are in a hurry to leave the arrival gate, you can still find the Digi and Hotlink telco counters outside the gate.
It takes about 10 minutes to buy a SIM card and set it up for use. But, you may need to queue to get the card.
After getting out of the baggage claim area at the airport, you will see counters selling SIM cards for Malaysia. It is better to research them in advance so you can choose the best plans that suit your needs.
Here are 04 steps to buy a SIM card at the airport:
Look for signs to the mobile network provider kiosks or shops in the arrival hall.
Choose the package you want and compare details and rates.
Buy the plan you want by showing your passport and filling out some basic information.
Pay for the SIM card and any additional services. The staff will activate the card and set up your phone. Ask about the plan's restrictions, international calling rates, and expiry dates.
Pro tips:
Unlike Singapore, Malaysia doesn't require foreign visitors to complete any immigration forms. Therefore, if you have a visa already or are exempted from it, passing through immigration is a straightforward process.
There is only 1 terminal at Penang International Airport, so you do not need to worry about transfer or transit
At the airport, you can find two money changers on the 2nd floor. In my opinion, the exchange rate is not the best, but it is alright if you are only changing a small amount of money. Alternatively, there are ATMs available if you prefer to withdraw money using your own bank card.
Penang International Airport offers free WiFi that you can use without having to make an account or use a phone number. The WiFi speed and quality are decent.
3. Buy at convenience stores, street vendors in the city centers
If you prefer to buy a SIM card in the city, you can find them at convenience stores like 7-Eleven or street vendors in popular tourist areas.
Pro tip: Always check the coverage and rates of the travel SIM or eSIM before purchasing.
IV. Tips for tourists to stay online in Penang
1. Internet connectivity in Penang
Free WiFi in Penang: Many public areas in Penang offer free WiFi, including airports, malls, and some tourist attractions.
Restrictions on Internet use in Penang, Malaysia: Keep in mind that there are restrictions on Internet use in Malaysia, including censorship of certain websites and social media platforms.
Virtual private networks (VPNs): If you're concerned about online privacy and security, consider using a VPN to encrypt your internet traffic and protect your personal information. There are many VPN providers available, including NordVPN, ExpressVPN, and Surfshark.
2. Online services for tourists in Penang:
There are many online services that tourists can use in Penang, including:
Food delivery apps: Food delivery apps such as GrabFood, FoodPanda, and DeliverEat allow tourists to order food from local restaurants and have it delivered to their accommodation.
Language translation apps: Language translation apps such as Google Translate can be useful for tourists who do not speak the local language, as they can translate signs, menus, and other written text in real-time.
Online map services: Online map services such as Google Maps can help tourists navigate the city and find their way to popular tourist attractions, restaurants, and shops.
Online travel guides: Online travel guides such as Lonely Planet and TripAdvisor offer tourists information on the best things to see and do in Penang, as well as reviews and recommendations for accommodations and restaurants.
Pro tip: Always be mindful of your data usage and avoid using public WiFi for sensitive transactions like online banking.
V. Frequently Asked Questions
How to get a SIM card at Penang airport?
You can buy the SIM card for Penang at the arrival hall of Penang International Airport. The store is open 24/24.
Is there free WiFi at Penang airport?
Yes. Free WiFi is available throughout the airport.
What is the best mobile network provider in Penang, Malaysia?
The largest telecommunication company in Malaysia is Celcom, the 2nd is Maxis and the 3rd is DiGi.