Travelers arriving in Kuala Lumpur Airport (KUL) can easily get a tourist SIM card and eSIM from Maxis/Hotlink, Celcom, Digi, U Mobile and other providers.
You will be happy to know that Kuala Lumpur International Airport (KLIA) (IATA: KUL, ICAO: WMKK) offers some of the best value tourist SIM cards in the world.
Searching for "Buy Malaysia SIM cards at Kuala Lumpur airport? You are at the right place because we will guide you step-by-step on how to buy (e)SIMs from different mobile operators at KLIA airport.
This article will show you everything you need to know about getting a SIM card at Kuala Lumpur Airport (KUL), including:
Where to get SIM cards at Kuala Lumpur Airport?
How is the registration process?
How much does a SIM card for Malaysia cost at the KUL airport?
Where to exchange money (for buying SIM cards and other purposes?
Here is the guide in details: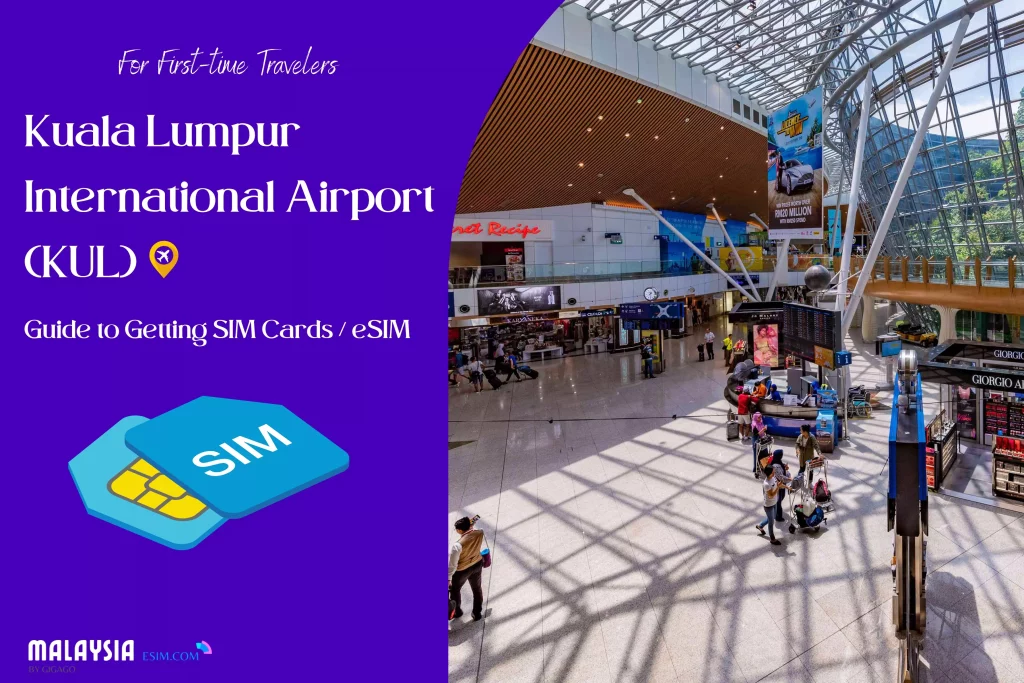 Editor's notes:
There are 2 terminals at Kuala Lumpur International Airport (KLIA), including KLIA1 and KLIA2. KLIA 1 (or KLIA Main Terminal) is used by Malaysia Airlines and other international [national] carriers while KLIA2 is the terminal for low-cost carriers such as Air Asia. They are not separate airports, but different terminals. It is not possible for passengers to transit airside within KLIA1 and KLIA2.
To use prepaid SIM cards or eSIM in Malaysia, your mobile phone needs to be UNLOCKED. In general, phones bought from Australia, Asia, and Europe are unlocked while phones from the USA may be locked.
Buying SIM cards at KUL airport on arrival is a popular way that many tourists choose when thinking about staying connected during their trip in Malaysia.
We recommend the Celcom SIM card for Kuala Lumpur because of its large coverage, good speed and reasonable price.
Choose international travel SIM cards if Kuala Lumpur is just one of your stops during your trip.
Table of Contents
I. Should you buy a SIM card from KUL airport?
Most international airports, including KUL airport, will have an official phone company kiosk located in. If you need to maintain contact while being in Malaysia, you may need a local SIM. Just simply go straight ahead right after you land.
Good to know:
Kuala Lumpur has 02 airports, Kuala Lumpur International Airports (KLIA) and Subang Sky Park (SZB) Airport – another popular airport in Malaysia's capital city.
Taxi is the best option to travel in and out of Kuala Lumpur Airport. It takes about 1 hour to travel from the airport to the Kuala Lumpur city center.
There are many ATMs on merely all the floors and signage can help locate them easily.
Banks are situated on the 3rd and 5th floor. RHB on the 3rd and 5th floor, May Bank on the 3rd floor, and CIMB bank on the 5th floor.
CIMB Bank located on the 5th floor serves all banking services and allows you to exchange foreign currencies from 7:30 am to 10:30 pm every day.
Use train services like KLIA Express or KLIA Transit if you want to avoid traffic.
II. How to buy a prepaid Malaysia SIM card at Kuala Lumpur International Airport (KLIA)?
SIM and top-up cards can be bought at most stores in KLIA.
Though buying sim cards at KLIA is more time consuming, it is still the easiest way to get the Internet when arriving in Malaysia.
After arriving at KLIA, you come down the escalator and get to Immigration for passport control
But before that, there are places where you can buy Malaysia prepaid SIM cards: Maxis/Hotlink, Tune Talk and Digi.
It means that you can buy a prepaid Malaysia SIM card even before the passport control.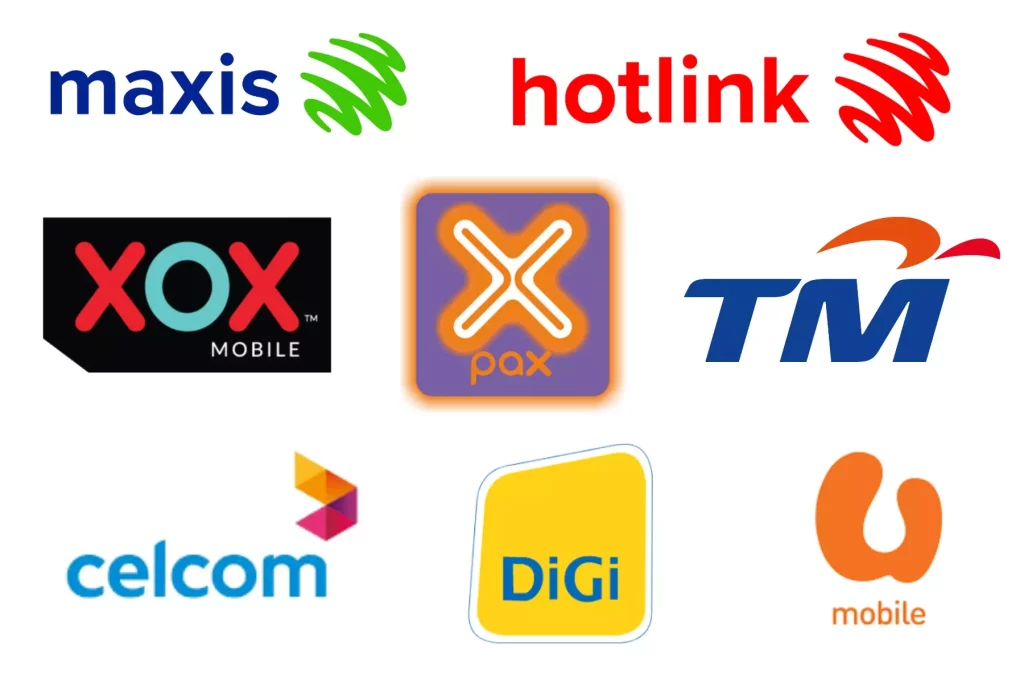 Below is the experience of a traveler to KLIA:
Entering the Tune Talk shop (using Celcom network), he was given advertising documents, which mentioned:
Package Tune Talk: offer 2 packages: 15GB and 20 GB high speed internet, all valid for 30 days, with respective prices being RM30 (over $6) and RM55.
Another package: 35GB high speed data for about $11, used for 30 days.
Entering Hotlink shop (Hotlink is a prepaid brand of Maxis), he was also given documents which introduced 2 packages:
RM55 and RM65, used for 7 days – the cheap package. But, they offered different speeds. It means that though the price is cheap, the speed is low.
RM75 ($16-17) – the most expensive package. But the internet is 6 times faster (18mbps) than the speed of the cheapest package (3mbps).
He concluded:
Buying SIM cards at KLIA airport is rather simple.
SIM cards for Malaysia are pretty cheap.
Hotlink offers slow (reduced) internet speed (which he didn' like much).
Tune Talk also has a package with 15GB for just RM30 ($6), valid for 7 days – that is suitable for the needs of most travelers. But, Tune Talk does not accept credit card payment.
He chose the Tune Talk package (which uses the Celcom network) because it offers a reasonable price with the Internet speed 10 times faster than that of Hotlink (30mbps vs. 3mbps). They also have the best 4G 5G network coverage in malaysia.
If you find the shops there are too busy, you can go further to the Booth Customs and get your visa stamped, take your suitcase. Then, there are also prepaid SIM card shops.
When you walk out and exit out of the Arrival Hall, walk to the left and you can see SIM card shops of Maxis Hotlink, Tune Talk and U Mobile.
Next, on the right hand side, you will see Bluecube.
These SIM card stores open 24/24, but some may not accept credit cards.
Bluecube and Tune Talk only take cash.
For U Mobile: they have a package RM45 ($10), with 6mbps (5 times slower than internet speed of Tune Talk – 30mbps) => slow internet speed.
For Hotlink: 2 packages: RM22 – Unlimited data, with the speed of 3mbps (10 times slower than that of Tune Talk – 30mbps); and the RM40 ($8-9) – 20GB for 30 days, with the fastest speed => If you buy more expensive package, you will have fast internet speed.
Pro Tips:
Maxis/Hotlink and Tune Talk are available both before and after Passport control.
The price of prepaid Malaysia SIM cards is rather cheap. But you should buy prepaid SIM cards after Passport control because the price here is cheaper than that of before Passport control.
Check the Internet speed carefully before buying because each mobile operator offers different internet speed in their packages. You should go for the package with high speed data.
Choose Tune Talk if you have cash or can exchange money into cash. Choose Hotlink if you pay by credit card.
Where to buy a prepaid SIM card at KLIA2 Malaysia?
There are many mobile phone and telecommunication stores at the Level 2 of the Gateway KLIA2 mall. They operate 24/24 and offer flexible and affordable call/data plans that can meet different budgets and requirements.
The Maxis/Hotlink store is available at the KLIA2. You can see it right after exiting out of the Arrival Hall.
You can set up your phone and top up as the guidelines at this store with the help of staff.
Celcom at KLIA2: If you go for Celcom services, then Celcom shop is also available as soon as you exit the Arrival Hall too, just next to Maxis/Hotlink store.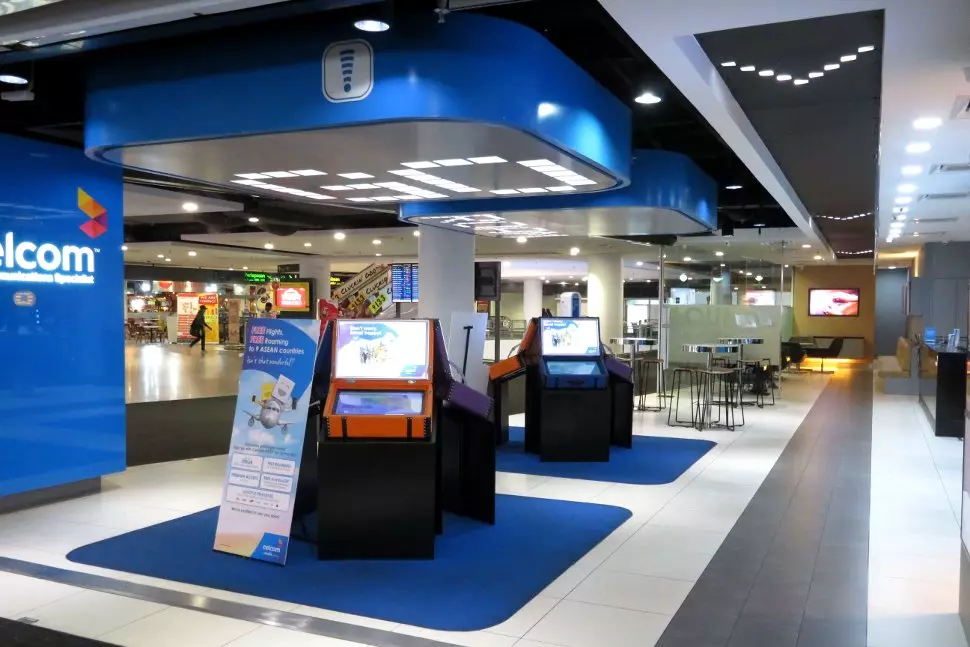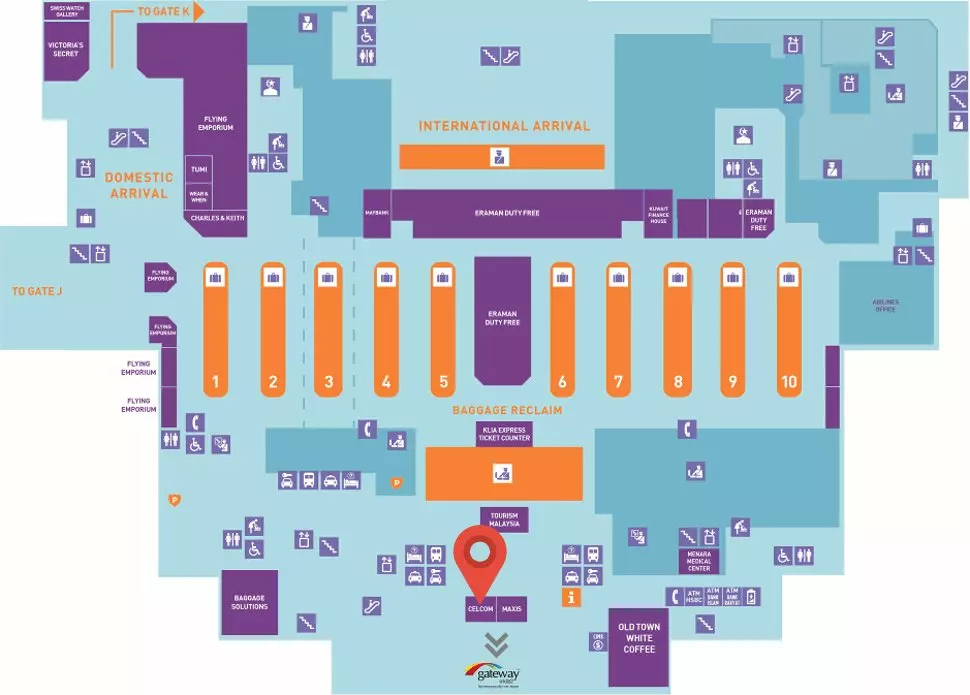 DiGi at KLIA2: Keep walking out from the Arrival Hall to level 2 of the KLIA2 Mall, you also find Digi shop located at L2-75 for your inquiry. They offer Hello Malaysia Traveler's Package with competitive rates on DD calls and Internet data packages.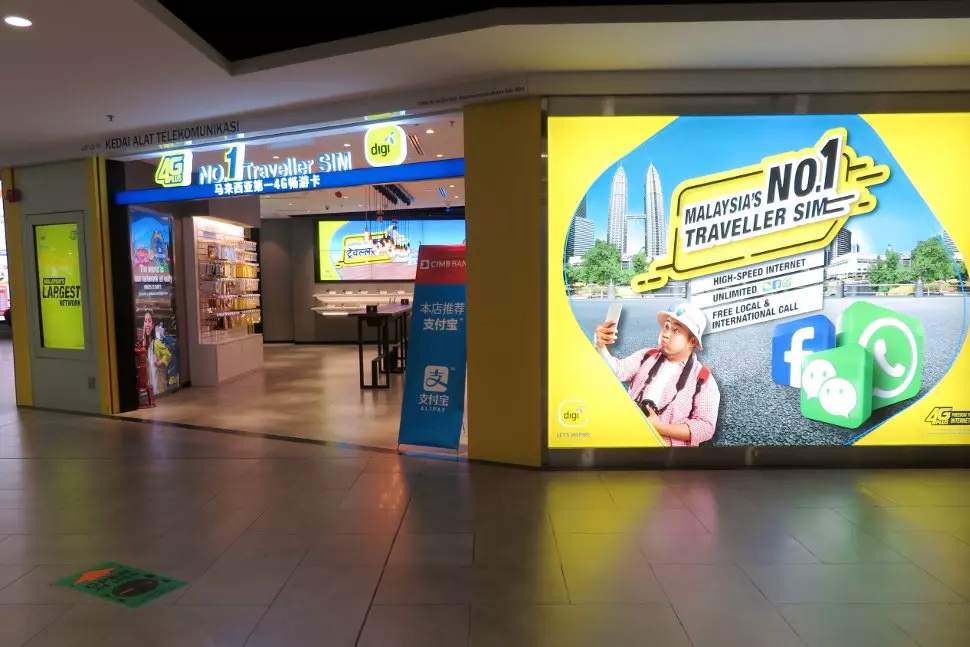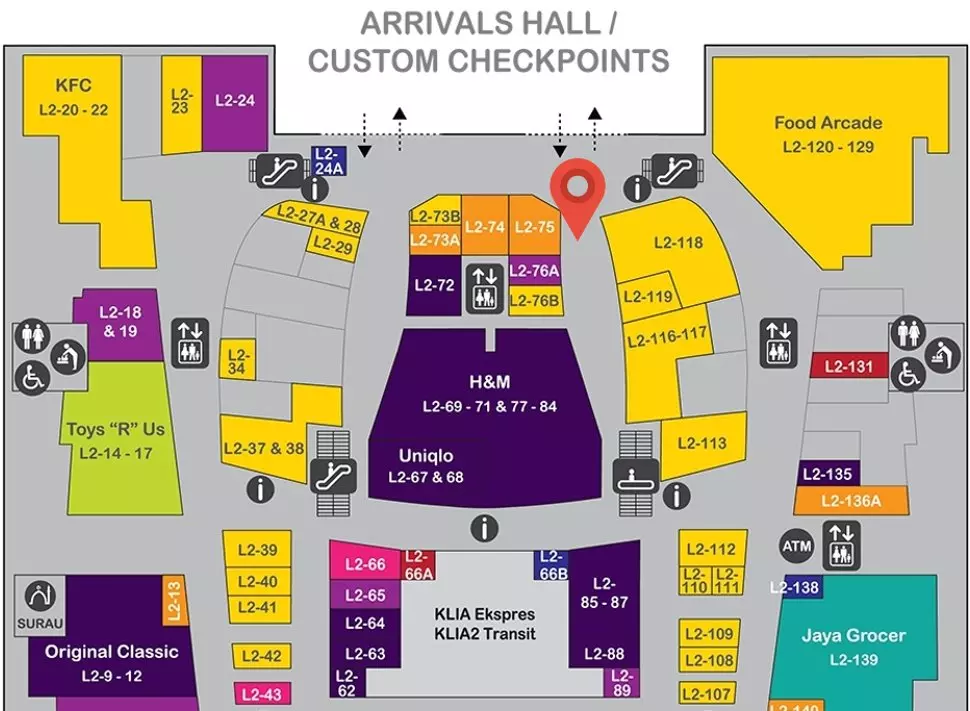 U Mobile at KLIA2: The U Mobile shop at KLIA2 is located next to Digi Shop. Customers can select from different competitive prepaid, postpaid, high-speed mobile data plans. This shop provides services like postpaid and prepaid registration, bill payment, SMI/SME registration, MNP registration, upgrade/change of SIM card, or plan and smartphone purchase.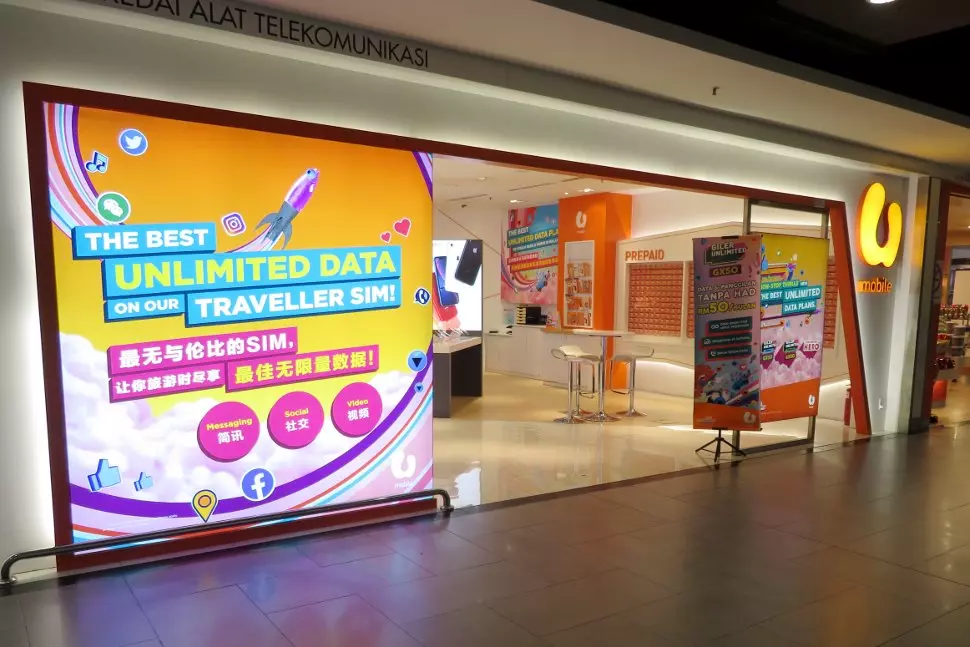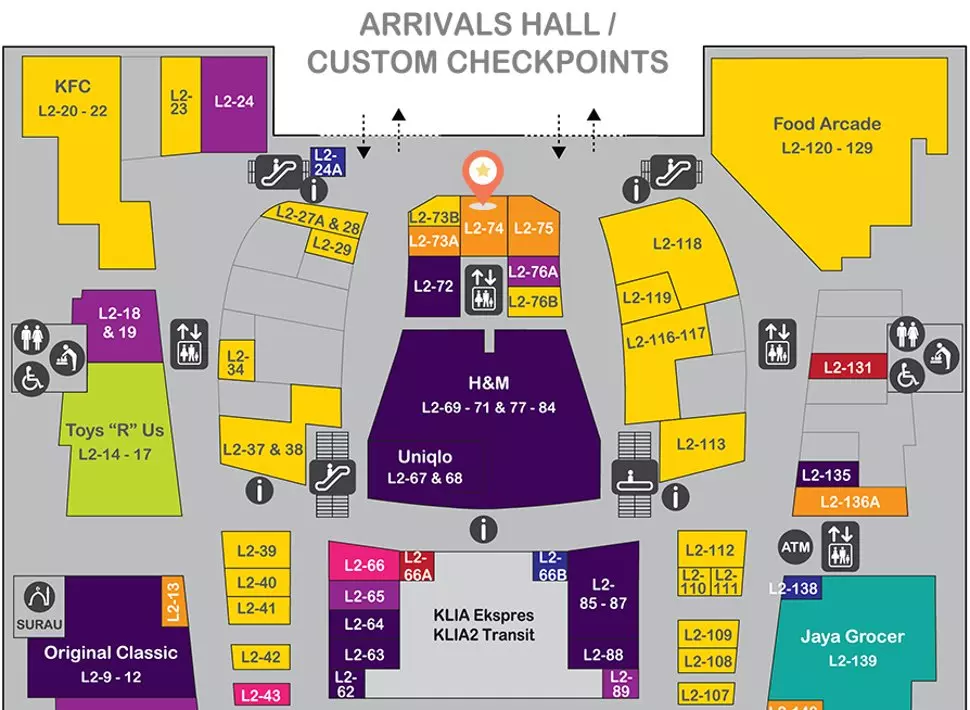 Tune Talk at KLIA2: You also find the store of Tune Talk available at level 2 of KLIA2. The prepaid service of Tune Talk offers no-frills voice and Short Messaging service (SMS) packages which meet the needs for a value-for-money, easily accessed product.
Other SIM cards/Phone booths: when walking to the Arrival Hall, you also find other booths selling SIM cards near the International Transfer Counters at the Satellite building.
Pro Tips:
To make things easier, you should pre-order the SIM card at home and pick up it from the airport terminal KLIA2 after arrival.
You can share the internet from a SIM card's connection. Do not buy more than one if you travel with your family and friends.
III. Opening hours of SIM card stores at KLIA airport
No need to worry about the opening hours of the SIM card stores at Kuala Lumpur International Airport if you arrive late. They all open 24 hours per day.
IV. Registration process to buy Malay SIM cards for tourists at KLIA Airport
Everyone buying a prepaid SIM card in Kuala Lumpur International Airport will have to show any form of photo ID, so bring your passport. Your new Malaysia SIM card will be registered on your passport number and name and a copy will be taken in the store.
Also, do not forget to bring your unlocked mobile device + your visa in case needed.
Better option:
If you want to avoid this then you can order an international SIM card online or get an eSIM for Malaysia. No passport registration is needed for these types of tourist SIM.
V. Why buy Malaysia eSIM for tourists online before arriving at KUL airport?
As mentioned earlier, buying eSIM to Malaysia online is highly recommended for travelers.
When buying a SIM card at Kuala Lumpur International Airport (KUL) in Malaysia, tourists may get some pros and cons:
Pros:
No need to register personal information
Purchase and activate the eSIM in advance of your trip
Stay connected immediately after landing at the airport
Keep your original SIM card in your phone while using the eSIM
Easily activate the eSIM on your mobile device, without visiting a physical store
Cons:
Requires a mobile device equipped with eSIM
If you lose or damage your phone, or experience technical issues, you may not be able to use the eSIM, which could be problematic while traveling.
Where to buy a tourist eSIM to Malaysia before arriving at KUL airport?
Buy eSIM plans from a prestige eSIM provider instead of buying directly from one of Malaysia cellular operators.
Why do that?
Both local Malaysia mobile operators and eSIM providers offer eSIM. However, the advice is to choose eSIM from eSIM providers instead of local mobile operators in Malaysia. Because:
Convenience: eSIM providers offer online purchase and activation, which is more convenient for those who prefer to avoid physical SIM stores and personal registration schemes. Besides, you can activate the eSIM remotely through an app or website.
Cost savings: Travel eSIMs from eSIM providers can be more cost-effective, especially for short-term tourists in Malaysia. Additionally, eSIM providers typically offer a wider range of package options from different Malay cellular network operators, providing customers with high flexibility and different prices. For instance, Malaysiaesim.com offers data plans from both Celcom and DiGi.
Diverse options: As mentioned, eSIM providers offer data plans from different mobile operators in Malaysia, giving customers numerous options to choose from.
Which are the best eSIM plans for tourists to Malaysia?
Here are some popular eSIM data plans for tourists to Malaysia from the provider Malaysiaesim.com: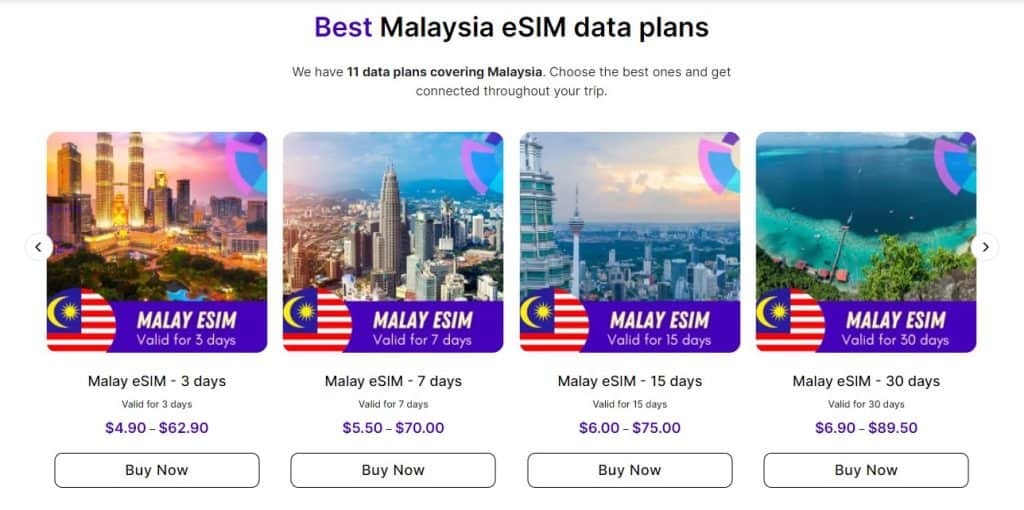 VI. Free WiFi at KLIA Airport
There is no registration needed to use the WiFi in KLIA. All you need to get connected is:
If you use your mobile phone, first you need to disable your data service to avoid any roaming charges (it's expensive).
Turn on your WiFi
Choose 'Airport WIFI'
Launch your browser to access the login page
Choose the 'Connect' button
Enjoy free WiFi at KLIA.
Remember that the FREE sessions on free WiFi connections at KUL is 240 minutes.
Pro Tip: Don't forget to disconnect your device from the WiFi network after use.
VII. Extra Tips When Arriving at Kuala Lumpur Airport for Tourists
Some information about KUL Airport:
KUL Airport is about 43 km from the city center of Kuala Lumpur.
KUL geographical coordinates are 2° 44′ 35.0 N 101° 41′ 52.0 E
It is 15174 km from New York and 10584 km from London.
There are no other major airports near Kuala Lumpur International Airport.
Kuala Lumpur International Airport is 22 m above sea level
It offers 2 runways. The longest is 4138.9 m in length and the widest is 60.1 m wide.
Extra notes when getting a SIM card at KUL Airport:
Choose a reputable provider: Stick to a reputable network provider when buying a SIM card at the airport. The major providers in Thailand are AIS, DTAC, and TrueMove. They all have booths at the airport.
Check the plan details: Make sure to check the details of the prepaid plans available to find the one that suits your needs. Some plans might offer more data, talk time, or text messages, while others might come with additional features like international calls or roaming.
Verify the SIM card size: Different mobile phones use different SIM card sizes, so make sure to check the size of the SIM card you need before purchasing. Some providers offer SIM cards that can be cut to fit different sizes.
Bring your passport: You'll need to present your passport to purchase a SIM card in Thailand. The staff at the airport will make a copy of your passport to register the SIM card.
Test the SIM card before leaving the booth: Before leaving the booth, make sure to test the SIM card to ensure that it's working properly. Check that you have a good signal and can make calls, send text messages, and use data.
Top up your balance: Prepaid SIM cards need to be topped up to add more credit to your account. You can usually top up at the airport booth or at convenience stores and other locations throughout Thailand. Keep in mind that some plans might include an initial amount of credit that you can use right away.
Choose esim if your phone is supported: it is better to choose an esim and buy it in advance, then after landing at BKK airport, you will automatically have Internet access without having to wait in line.
► We also have other guides for travelers to get a sim card at other airports in Malaysia in case you land at other Malay airports