Traveling is made convenient by the presence of many mobile apps that work with an internet connection. Therefore, it is important for travelers to stay connected during their trip.
Planning a trip to Kuala Lumpur? There are many options available for staying connected while traveling Kuala Lumpur, Malaysia: a prepaid travel Kuala Lumpur SIM card, a Kuala Lumpur tourist eSIM, Wifi Pocket, and data roaming.
These are popular options but each one has pros and cons. In this guide, we skip the last two options due to their high cost and inconvenience.
This guide mainly focuses on how to stay connected in Kuala Lumpur, Malaysia using SIM cards or eSIM for travelers.
Now, let's start!
Table of Contents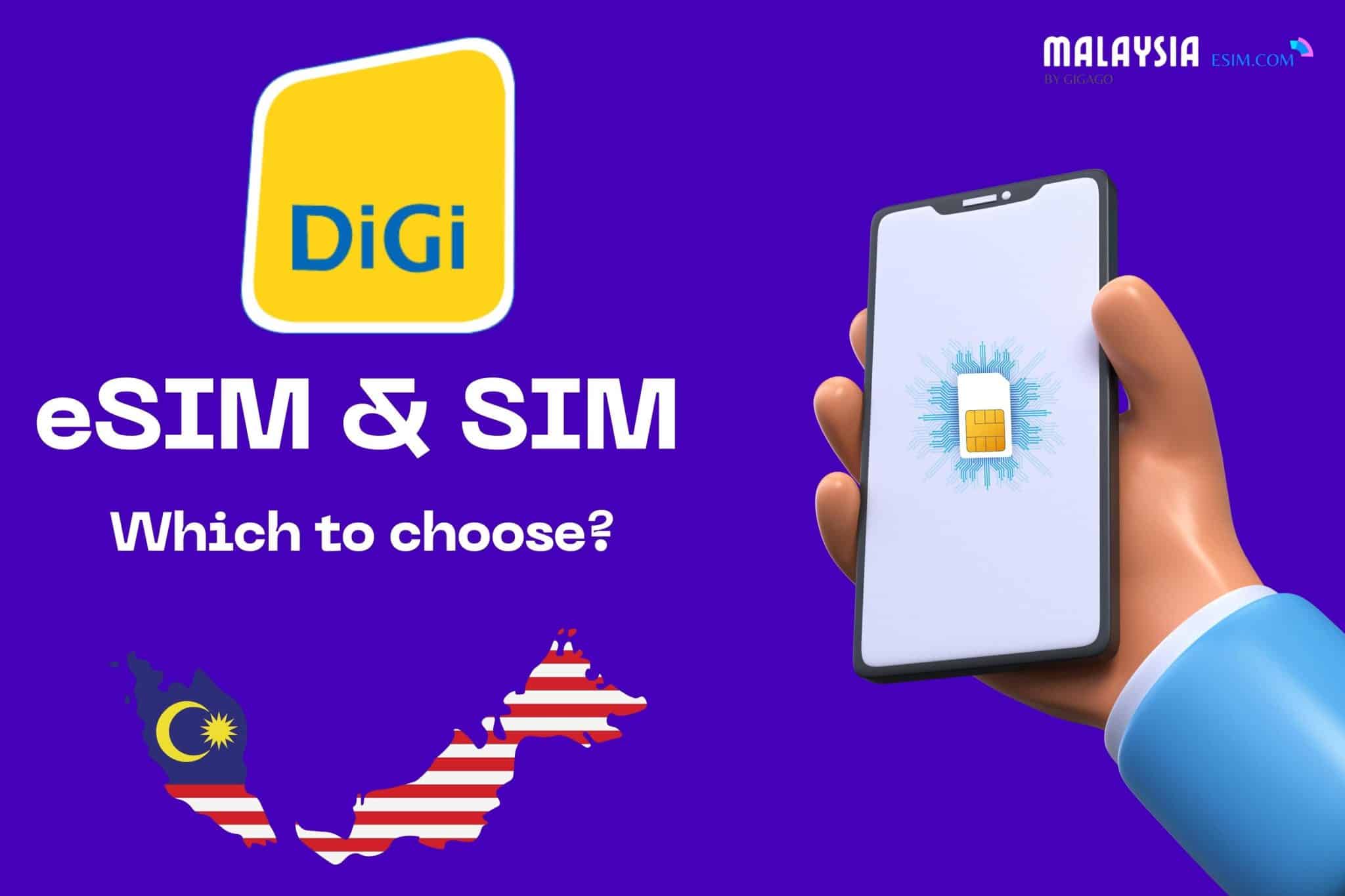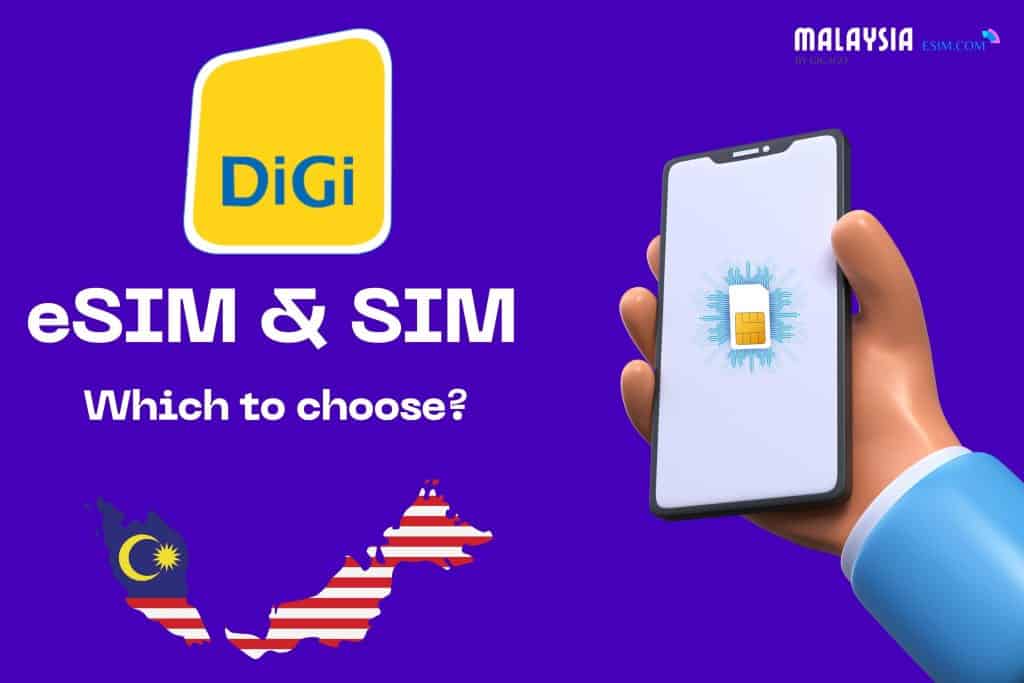 A quick start about Malaysia SIM cards in Kuala Lumpur:
Best mobile network operators in Malaysia: Celcom or Digi
Recommended travel SIM: prepaid plan, data-only
Best Malaysia SIM for tourists: prepaid SIM card or eSIM with a data plan
Newest Malaysia travel SIM form: eSIM
First of all, you should have an overview about the Internet in Kuala Lumpur.
I. Internet in Kuala Lumpur
1. How fast is the Internet in Kuala Lumpur?
Kuala Lumpur is the city with fastest mean download and upload speeds on fixed broadband at 43.18 Mbps and 13.67 Mbps, respectively, according to the statistics reported by Speedtest in Feb, 2023.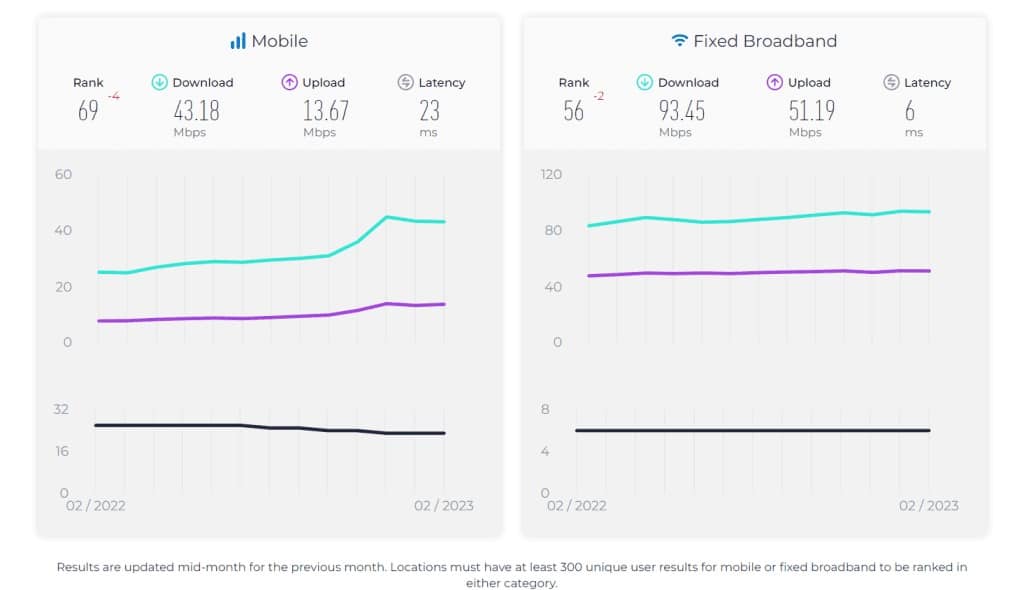 2. Is there 5G in Kuala Lumpur?
Malaysia's 5G network can currently be used by around 15 million people, and this number will double to 30 million when the network is fully set up. DNB's 5G network covers more than 90% of the people living in Kuala Lumpur, Putrajaya, and Selangor. In Johor, Malacca, and Negeri Sembilan, the network covers about 50% of the population.
You may want to know:
Oftentimes, when reaching the airport, travelers will buy a local SIM card for Malaysia. They use the SIM card primarily for data usage to navigate, surf the Internet and contact with other people via apps.
Most will not go with international roaming on their local original SIM card because the roaming charge is much higher than buying a new local SIM card.
If you hope to use free Wi-Fi, you may find it less useful especially when you go out and about a lot. In Malaysia, cafes and restaurants also have free Wi-Fi but as a customer, you will at least have to buy a drink and sit there in return. And that is not FREE, after all. It is also not convenient if you are going out to find a taxi using the GRAB app.
There are 02 types of prepaid Kuala Lumpur tourist SIM cards:
Prepaid physical tourist SIM cards
Prepaid tourist eSIM
Let's have a look at each one:
I. Physical Malaysia SIM cards in Kuala Lumpur
1. Types
Like in other cities in Malaysia, there are 03 types of prepaid physical SIM cards in Kuala Lumpur for tourists to buy:
Prepaid local SIM card: used by residents in Malaysia, offers voice and data plans
Prepaid SIM cards for tourists: designed for tourists to Malaysia, offers unlimited data usage, free international calls and other features for the needs of tourists (depending on plans)
Data SIM cards: designed for use in devices like smartphones, mobile hotspots, tablets, which do not require voice/text messaging capabilities.
2. What to prepare to buy a SIM card for tourists in Kuala Lumpur?
You need to prepare documents: your passport or a photo of your ID card.
This varies depending on the place and the person you buy a SIM from.
3. How much does Kuala Lumpur SIM cost? Price
The service prices of mobile network companies in Malaysia are not so different from one another. No matter which one you choose, it will almost be the same price with the same validity/data plan. At the time of writing this guide, the Kuala Lumpur SIM card price starts at RM19.
4. Which SIM card is the best in Kuala Lumpur?
The best SIM card in Kuala Lumpur depends on your needs and preferences. Some of the popular options are:
Maxis: Offers good coverage and data speeds, with various plans to choose from.
Celcom: Known for its affordable plans and good network coverage.
Digi: Offers competitive pricing and good data packages.
U Mobile: Known for its unlimited data plans and affordable pricing.
All providers offer similar coverage. Note that Digi, Tune Talk, and Celcom options are currently only available in KLIA2, so you should only buy this option if you fly there (usually just AirAsia and other budget brands have flights here.
These options are only suitable for those with a foreign passport (not Malaysian). The Malaysia SIM card price will depend on how much data (and voice minutes) you have included and the validity of the plan.
It is recommended to compare the plans and prices of each provider before making a decision. Additionally, it is advisable to check the coverage in the areas you will be visiting to ensure that you have a good signal.
Below, we have a comparison table of Malaysia tourist SIM card options:
| | | | | | |
| --- | --- | --- | --- | --- | --- |
| Provider | Airports | Price | Data | Calls & SMS | Valid |
| Tune Talk | Kuala Lumpur International Airport 2 (KLIA2) | RM23 | 15GB* | Some local and international calls and SMS | 7 days |
| Tune Talk | KLIA2 | RM45 | 20GB** | Some local and international calls and SMS | 14 days |
| Celcom | KLIA2 | RM19 | Unlimited*** | Local minutes includes | 7 days |
| Celcom | KLIA2 | RM53 | Unlimited*** | Local minutes includes | 30 days |
| eSIM | Everywhere | RM30.39 | 2.5GB | Not included | 5 days |
| eSIM | Everywhere | RM49.45 | 5GB | Not included | 10 days |
| eSIM | Everywhere | RM123 | Unlimited***** | Not included | 14 days |
* 5GB at high speeds, 10GB at 64 kbps
** 10GB at high speeds, 10GB at 64 kbps
*** Up to 20GB at 3Mbps then 512 kbps
**** Up to 60GB at 6Mbps then 512 kbps
***** 3GB at high speeds, unlimited at 128 kbps
II. Kuala Lumpur travel data eSIM for tourists (virtual SIM)
1. What is Kuala Lumpur eSIM?
eSIM is the digital version of a physical SIM card, but is inserted in the motherboard of the mobile device without having to swap out the SIM card tray. Not all devices can work with eSIM, only the ones with eSIM technology can do it.
Most travelers to Kuala Lumpur use a eSIM with data plan because it helps them stay connected with family and friends while still saving money.
The Malaysia data eSIM for tourists only allows you to use mobile data. It does not come with a local phone number for voice and texts. But, you can still make calls using apps like WhatsApp, Skype, iMessage to contact your family and friends.
2. Types and features of Kuala Lumpur eSIM
In terms of function, Malaysia eSIM comes in 02 types:
Data eSIM (for internet access only)
Voice, text, data eSIM (for both calls, SMS and internet access)
Here are some main features of Malaysia data eSIMs:
Most data eSIMs for Malaysia do not come with Malaysian phone numbers, so you cannot make analog phone calls or texts, but you can do it through apps.
The eSIM data plan will connect automatically to the supported mobile network for Internet access.
eSIM can be set up once only. If you remove it, you cannot install it again on any mobile phone. But, some eSIMs from certain providers can be set up again after the old one is removed. In such cases, their validity is still accumulated and remains unchanged.
Multiple eSIM profiles can be added on a phone, depending on the memory storage of the phone. However, only one is activated at a time and maximum 3 eSIMs in one phone is highly recommended so as to optimize your phone performance.
Top-up ability: when you run out of data volume, you can buy a new plan or top up, depending on the provider.
Note: Your phone needs to be eSIM-compatible and unlocked in order to use an eSIM.
3. How much does a travel eSIM for Kuala Lumpur cost you?
The cost of a travel eSIM for Kuala Lumpur varies by the provider and the plan you choose. It is best to research different options and compare prices to find the best deal for your needs.
III. Where to buy Malaysia SIM for Kuala Lumpur as a tourist?
Finding a SIM card for Malaysia is easy in the capital Kuala Lumpur. There are 3 options available:
1. Buy online
2. Buy at the airport
3. Buy in mobile carriers' stores, street vendors
1. Buy Malaysia SIM online, before leaving home
This is your first choice of buying a Malaysia SIM card for tourists. You can easily pick your prepaid said upon arrival so you are all set to go.
To buy Malaysia SIM online, you can visit some prestigious websites, such as official websites of Malaysian mobile network operators or other SIM card retailers, choose the plan you want and have it delivered to your location or pick up on arrival at the airport (see how to pick up eSIM at the airport in Kuala Lumpur airport below). 
Pick up locations can be:
Kuala Lumpur International Airport 2 (KUL2)
Kuala Lumpur International Airport 1 (KUL)
As an alternative, if your phone allows you to use an eSIM, you can also buy it online for Kuala Lumpur travel. This option is flexible no matter where you are. Buy it before your departure date, through many online stores on the Internet such as MalaysiaeSIM.com, Gigago, Airarlo, Digital Nomad, Holafly,… It works best for people who want to use mobile data more than a SIM card to make calls and texts.
This also gives you peace of mind that you have prepared data for your trip.
To buy eSIM, take these steps:
Visit the website you choose, such as MalaysiaeSIM.com
Select the data package that suits your needs and pay
Get the eSIM details + installation / activation guide in your email
Install the eSIM before departure, and activate it after landing in Kuala Lumpur.
Enjoy the Internet during your trip in Kuala Lumpur
Each eSIM provider has specific data plans, pros and cons. Choosing which provider to go for will depend on your budget, trip duration and specific needs.
Pro Tip: I personally recommend buying an eSIM as the best choice if your phone works with eSIM.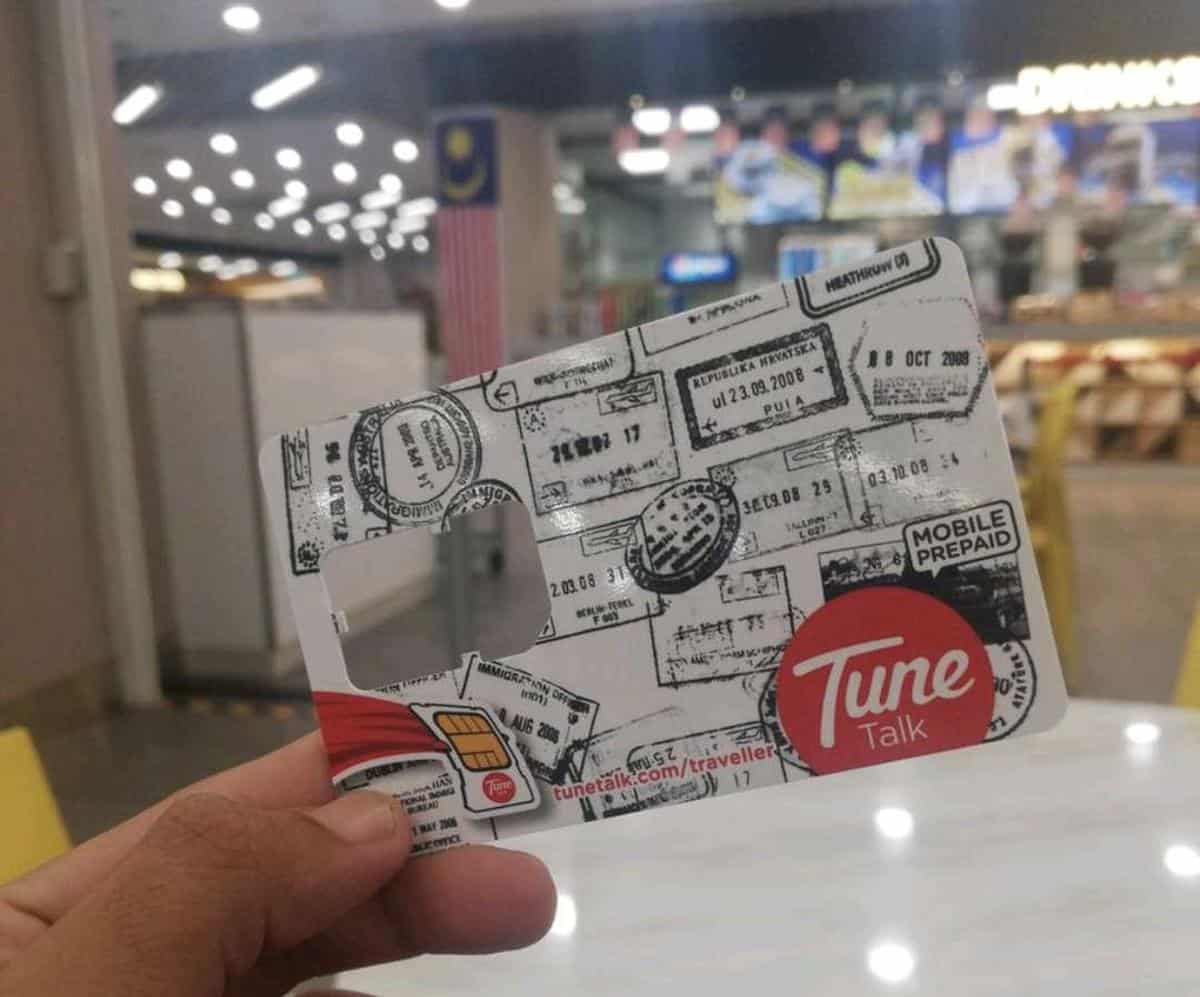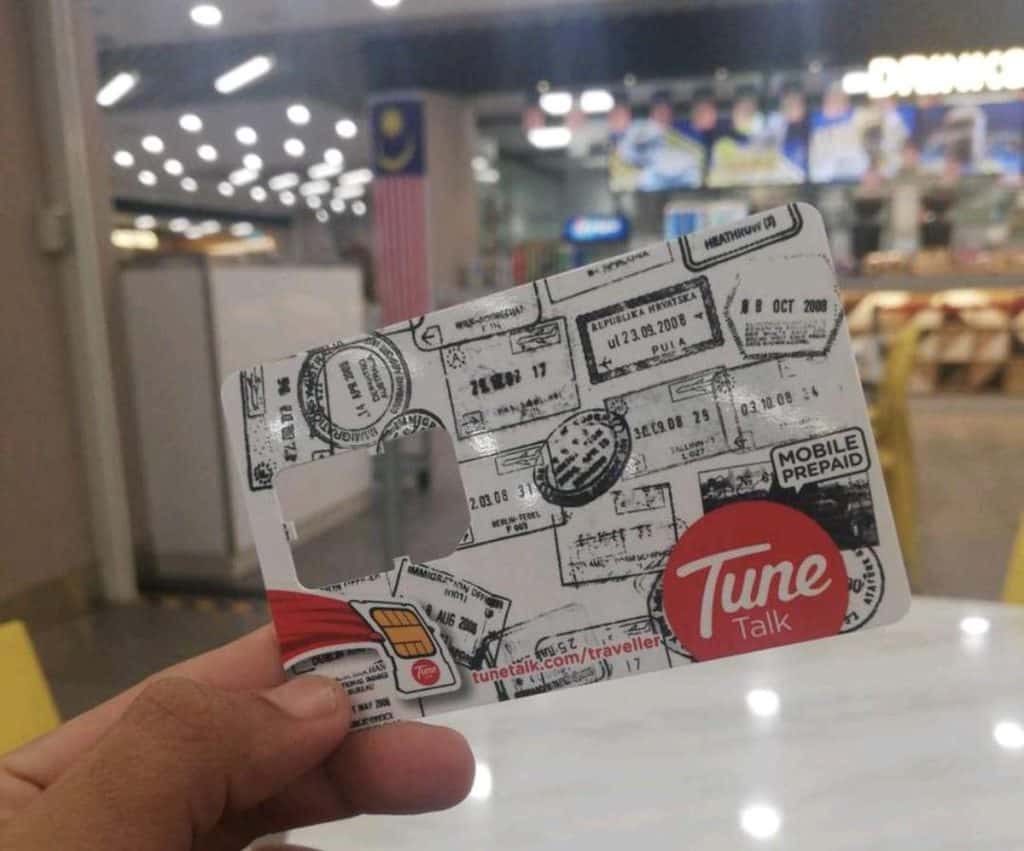 2. Buy at the airport
You can buy a prepaid SIM card for Malaysia on arrival at Kuala Lumpur International Airport.
After landing, come down the escalator and get to Immigration for passport control. There, you also see places where you can buy prepaid SIM cards for Malaysia travel.
Some counters even have a "Tourist SIM card package" which often comes with available credits and a certain amount of call time and data that can be used.
The price for a Malaysia SIM card is pretty cheap. But, the speed will depend on the package you choose. If you choose the cheapest one, you also get the lowest Internet speed.
For example, with 75 Ringgit (about 16 – 17 USD) you will get a plan with Internet speed of 18Mbs which is 6 times faster than the 3Mbs of the cheapest plan.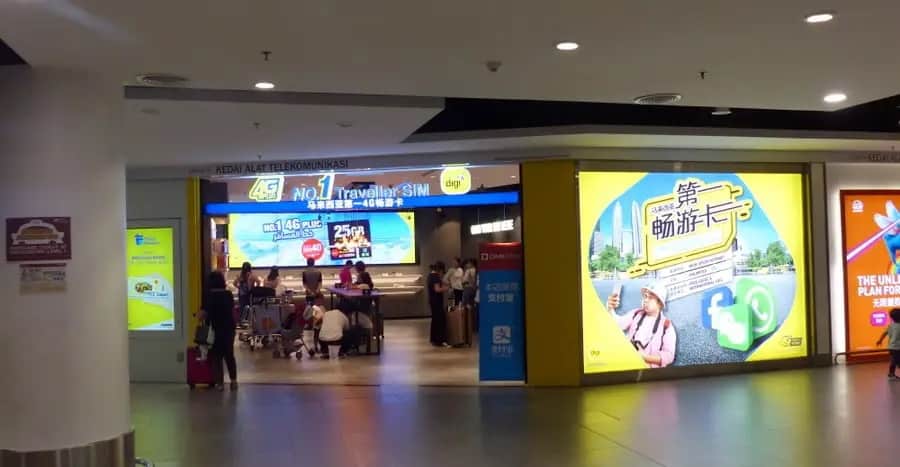 Pro Tip:
Pick up a Digi SIM card for tourists at Kuala Lumpur airport: easy on arrival. Fly into KLIA2 and you will see Digi shop when exiting customs. Walk straight ahead on the left side of the exit. Look for a big yellow sign.
If you land at KLIA, SIM card stores are just before you get the baggage claim. You can find Digi, Tune Talk and other providers at the left when you exit the customs.
Here are 4 steps to buy travel Malaysia SIM cards at Kuala Lumpur airport:
Step 1: Go to the kiosk or shops selling SIM cards after landing at the airport.
Step 2: Select the plan you want. Choose carefully and compare the details and rates of each plan with each other.
Step 3: Show your passport. Then, the staff there will take pictures of you and your passport for record. You are also required to fill in some basic information, like name and contact details.
Step 4: pay for the SIM card you choose or any extra services if any. The staff will activate the SIM card for you so you can use it right away. Remember to ask them about the basics of the plan like data usage restrictions, expiry dates, and international calling rates.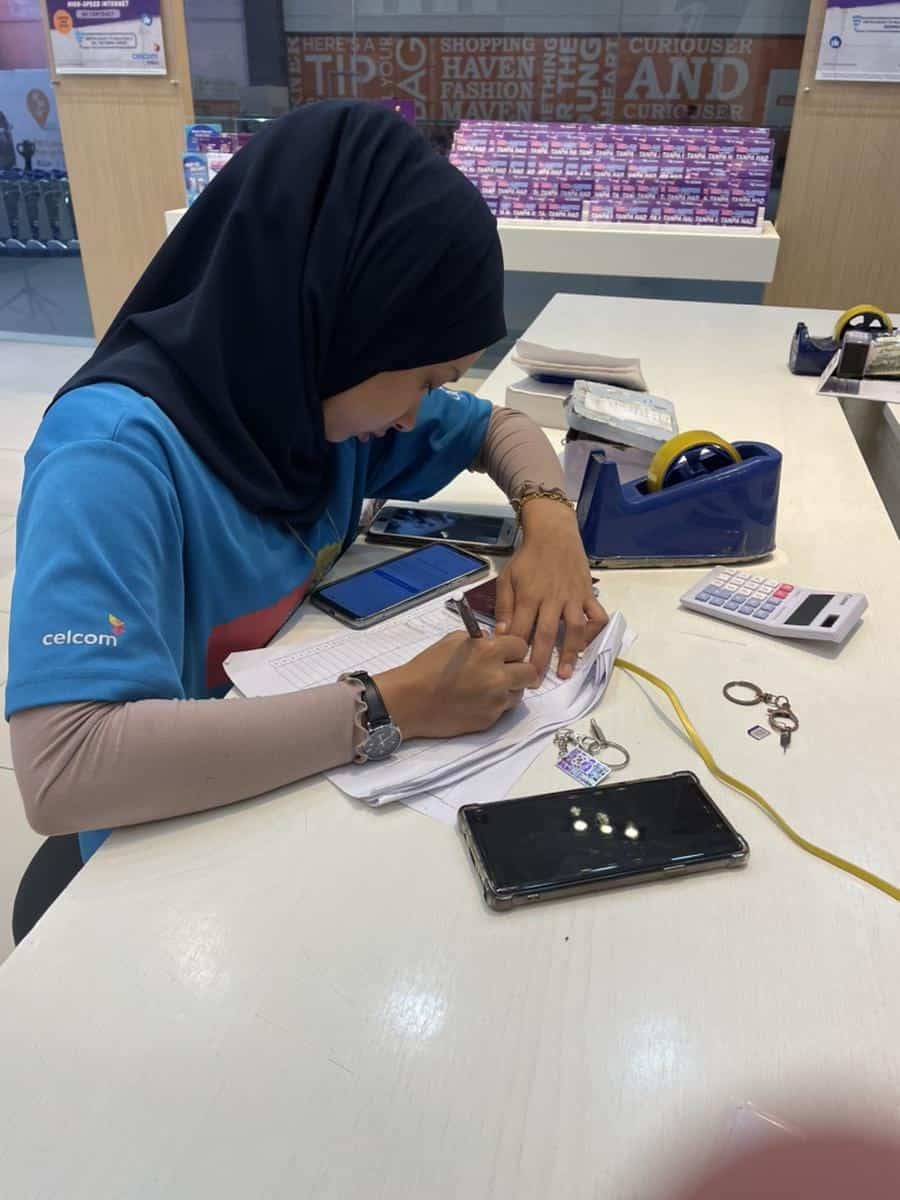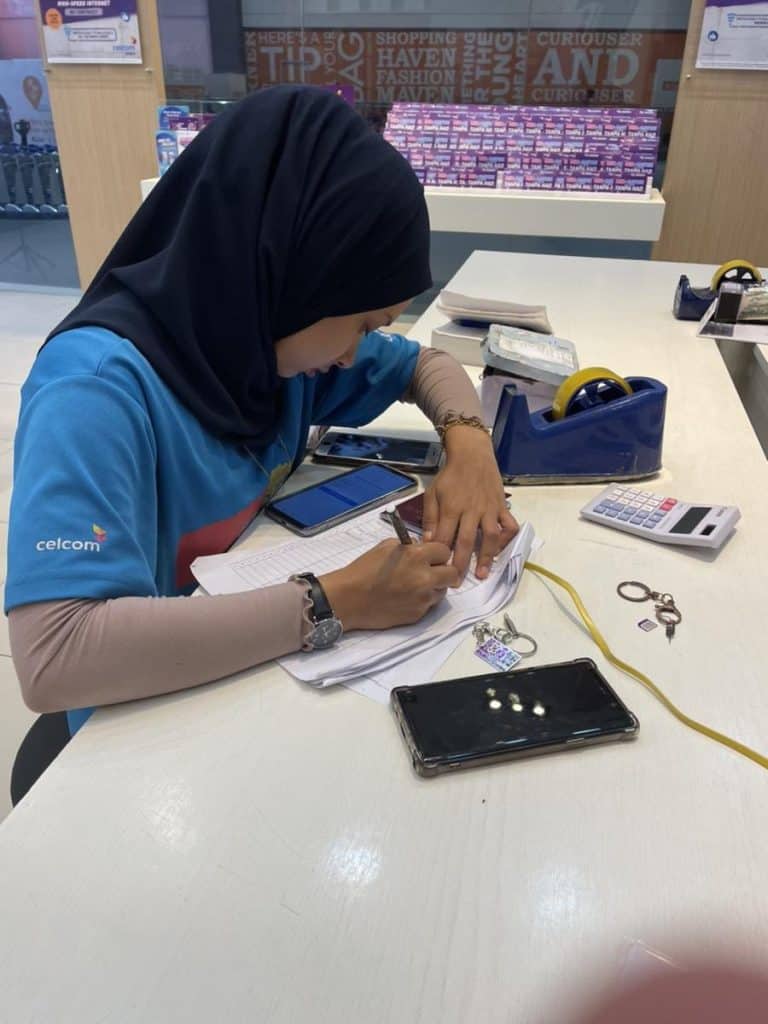 Pros:
Easy and convenient because you have your passport ready on hand.
Service-oriented staff who can speak English are available to help you set up the SIM.
Instant access to the Internet right upon arrival.
Cons:
More expensive than buying in the city center or other places
Limited options of data plans available.
Pro Tips:
If you are not a fan of reduced Internet speed, you should not choose a Maxis's Hot link SIM.
Go for a Celcom SIM card because they have the best 4G 5G network coverage in Malaysia.
If you just stay in Malaysia for a few days, then Celcom has a great package with 30GB for just 35 Ringgit (about 8 USD) .
Also go for Tune Talk (MVNO of Celcom Malaysia) because it provides 15GB high speed data for just 5 USD.
Remember that most SIM card kiosks here do not accept credit cards, but cash only. If you want to exchange money, do not exchange in the restricted area because of the poor exchange rates. Do it at the arrival hall.
► Depending on which airport in Kuala Lumpur you land at, see our guide to buy SIM cards / eSIM.
3. Buy in mobile carriers' stores and others (mobile shops/street vendors)
You can buy a SIM card at mobile carriers' stores in Kuala Lumpur like Celcom, Digi, Maxis, U Mobile. They can be found throughout the city center.
Location of 4 famous mobile network providers are:
Alternatively, there are also other stores in Kuala Lumpur where you can find Malaysia SIM cards for tourists, be it street vendors, convenience stores like MyNews, 99 Speedmart, 7-eleven and shopping malls in the city center,…
As foreigners, when buying a SIM card, you need to show your passport or ID. However, sometimes, you may come across someone who is willing to sell you the SIM card without having to show your passport.
Pros:
Convenient because you can get it instantly without having to order it online or wait for delivery.
Wide range of options: each mobile carrier offers a selection of SIM card plans with different data, talk-time, and SMS options.
Trustworthy because the SIM is provided by the manufacturers and prestigious SIM card agents.
Promotions and discounts: mobile carriers in Malaysia often offer promotions and discounts for SIM cards.
Cons:
Higher prices: more expensive than buying from other places like convenience stores or street vendors.
Limited payment options: Mobile carriers' stores may not have varied payment options, you often have to pay by cash.
Language barriers: Non-Malaysia speakers may have trouble communicating when making a purchase of SIM cards.
Limited accessibility: mobile carriers' stores may not be widely available in rural areas, so if you travel to such places in Malaysia, you may get troubled.
Pro Tip:
Actually, whichever carrier you go with, U Mobile, Maxis, Celcom, DiGi are rather the same, especially for a short amount of time.
IV. Tips for tourists to staying online in Kuala Lumpur
1. Internet connection in Kuala Lumpur
Is there free WiFi in Kuala Lumpur?
Yes. Like other major metropolitan areas in the world, Malaysia's capital also offers free WiFi.
You can find free WiFi in restaurants, coffee shops, hotels, famous attractions, airports, railway stations, public places, libraries, etc.
Mega chain coffee shops like The Coffee Bean & Tea Leaf, Starbucks, PappaRich, Old Town White Coffee all offer free WiFi.
Depending on the location and price range, the availability and quality of Internet access in Kuala Lumpur hotels may vary.
Here are the best places for free Wi-Fi in Kuala Lumpur, which allow you to get connected if you have supported mobile devices. These are:
Pavilion Kuala Lumpur
Fuego at Troika Sky Dining
Shangri-La Hotel, Kuala Lumpur
New Chapter by The Owls Café
Classic Inn Budget Hotel
Senya Izakaya
心灵之素 Pure Heart Vegetarian (HQ)
Code:Black Espresso
Dewi Petshop Pantai Dalam KL
Hard Rock Cafe Kuala Lumpur
Traders Hotel
myBurgerLab
Canopy Rooftop Bar & Lounge
Leica Store
Restoran Hadramawt Palace
Is there 5G in Kuala Lumpur?
Yes. Commercial 5G NR has been available in Kuala Lumpur Malaysia since May 2022. It is found on the Yes network through Digital Nasional Berhad (DNB).
Restrictions on Internet use in Kuala Lumpur, Malaysia
Internet censorship and restrictions on online content are not uncommon in Malaysia. The Malaysian government has enacted laws like the Communications and Multimedia Act (CMA) and the Multimedia Super Corridor (MSC) Malaysia Bill to monitor and regulate the use of the internet. This applies to those websites which are deemed to be a threat to public order or national security.
Online content related to political and religious issues, or individuals expressing dissenting opinions online are also objects of restrictions.
Pro Tips:
You can make use of phone apps to track the nearest Wi-Fi and also supply you with their passwords. However, these free apps also have limitations that they only allow you to search for free hotspots within a 1km radius.
Make sure not to import sensitive personal information (especially credit card / bank details) when using a public WiFi. Hackers may hack into the network and track its traffic.
2. Mobile data in Kuala Lumpur
Kuala Lumpur has a well-developed telecommunications infrastructure. Generally, mobile data plans in Malaysia are affordable compared to other countries in Asia. Some major mobile network operators in Kuala Lumpur and Malaysia include Maxis, Celcom, U Mobile and Digi that provide customers with mobile data plans.
The quality and cost of mobile data in Kuala Lumpur can vary depending on the network operator, the amount of data, and plan type.
Some mobile network operators in Malaysia also offer prepaid SIM cards that can be purchased at convenience stores and other retail outlets. These prepaid plans are a popular option for tourists and visitors who require mobile data access during their stay in Kuala Lumpur.
3. Online services for tourists in Kuala Lumpur
There are some online services for tourists visiting Kuala Lumpur. Some of the most popular are:
Ride-hailing apps: You can use Grab and MyCar to book taxis and private cars to get around the city.
Food delivery apps: GrabFood and Foodpanda allow tourists to order food from local restaurants to their accommodation.
Language translation apps: Foreigners tourists who do not speak Malay and Chinese will find Google Translate and iTranslate helpful during their trip in Kuala Lumpur.
Navigation apps: You can use Waze and Google Maps to navigate around the city.
V. FAQs
How fast is the Internet in Kuala Lumpur?
Speedtest Intelligence® reveals that among top fixed broadband providers in Malaysia in Q4 2022, TIME delivered the fastest median download speed at 106.54 Mbps.
Does Kuala Lumpur have free WiFi?
The state governments of Kuala Lumpur and Selangor have made it mandatory for food outlets in their respective municipalities to provide a free Wi-Fi connection to customers. This service extends to eateries such as McDonalds, KFC and most restaurants throughout the nation.